Recently I picked up a Soundcraft 400B 24 channel analog mixing board from a guy in Chicago who had no need for it anymore. The board was in a super heavy flight case (200+ pounds) and it looked a bit beaten up- well, its around 30 years old! But these old Soundcrafts have a sweet sound- that legendary British sound, and it is worth my time to investigate whether this board adds a new quality to STUDIO 330. In order to do that, the board has to be disassembled, cleaned, repaired and brought back to life. Once I started to disassemble it I was marveling at the brilliant simplicity of this machine- a fully modular design that makes maintenance so much easier than today's equipment. I am pretty excited about the process! Only one module turned out to be defective and it is already on its way to Creative Audio Labs in Nashville for repair. Not Bad!

Here are some pictures of the process:


Powered by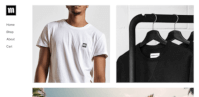 Create your own unique website with customizable templates.